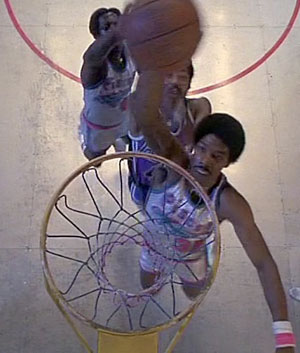 Moses Guthrie is the star of the team yet when the movie starts, both him and the Pythons (name changes to Pisces for obvious reason) have seen better days. For some reason, he just can't get it together and he's very down when the movie starts. Until Astrology comes into the picture and he performs better than ever.
Played by my all-time favorite player ever, the incredible Dr. J himself Julius Erving. If you haven't seen him during the classic ABA days, you really didn't see him. As a long time ABA NY Nets fans, I saw him several times and he was unreal. Michael Jordan may have been a better all around player but no one, I mean NO ONE, performed in the air like the Doctor in his prime. The NBA continues to highlight his incredible reverse layup, AGAINST KAREEM ABDUL-JABBAR, and that was when he had old knees. They should have seen him when he was younger! But you can have a small taste when you watch him as Moses Guthrie.
On a side note, I have two basketball regrets:
The REAL Nets with Doc never got a chance to play together in the NBA, due to their greed and hatred of the ABA.
That Maurice Cheeks didn't pass the ball to Doc in the closing seconds of game 4 when the Sixers finally won the championship. It would have been an image for the ages.
Learn more about the Doctor on Wikipedia by CLICKING HERE!