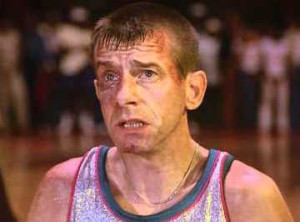 Played by the talented actor Jack Kehoe, Setshot Buford is the guy who represents us regular guys. All the ones playing for fun in the gym, who live, eat and breathe basketball, too slow or too short to make it in the bigs.
Setshot is a trick shot artist, specializing in the super-long distance shot. Tough, loyal, he'll take a pounding for the team. He's also the league's best free throw shooter in my opinion. He's all business on the court.
Learn more about Jack Kehoe on Wikipedia by CLICKING HERE!